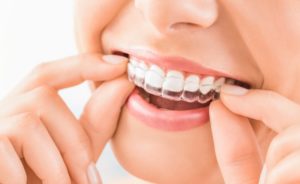 Invisalign has straightened millions of smiles since the orthodontic treatment hit the market in the late 90s. Its discreet and comfortable aligners allow people of all ages to get the aligned teeth they've always wanted. However, Invisalign doesn't make your teeth immune from cavities. Read on to learn more about Invisalign and tooth decay, as well as how to protect your smile while undergoing treatment.                       
Invisalign and Cavities
Even though Invisalign treatment requires you to wear the aligners at least 20 hours a day, they don't protect your pearly whites from tooth decay! Your teeth are always at risk of decay since they are always exposed to food and drinks. As a matter of fact, Invisalign may make you more susceptible to cavities if you don't practice proper oral health care during your treatment. If you fail to thoroughly brush your teeth every time after eating, bacteria and food debris can become trapped between aligners and teeth. This can leave you at an increased risk of decay, cavities, and even gum disease.
What Should You Do If You Think You Have a Cavity?
If you notice something isn't right about your smile during your treatment, be sure to contact your dental team right away to schedule an exam. Some signs of a cavity include a persistent toothache, lingering sensitivity to hot or cold foods and drinks, and discoloration of your tooth. If you do have a cavity, your dentist can treat it with a filling or another dental restoration. After treatment, you may experience mild soreness or discomfort while wearing your Invisalign aligners, but it shouldn't last for longer than a few days.
How to Keep Your Smile Healthy During Invisalign Treatment
Untreated tooth decay is an issue that will not only affect your oral health but can delay your Invisalign treatment. Fortunately, there are many ways you can protect your smile.
Here are some tips to keep in mind:
Maintain an excellent oral health routine: By brushing your teeth twice a day and flossing daily, you will help protect your teeth against decay, especially during Invisalign treatment. Be sure to also clean your mouth after eating and before putting the aligners back in!
Keep your Invisalign aligners clean: It's essential to take proper care of your Invisalign aligners by brushing and soaking them. This will keep them free of bacteria and food particles.
Regularly visit your dentist: Stay on top of your routine dental checkups and Invisalign follow-up appointments. This gives your dentist the chance to thoroughly clean your mouth and catch any dental issues before they become more serious.
While you are still at risk of cavies during Invisalign treatment, you can implement these helpful tips to keep your smile in top condition. After your treatment, you can enjoy not only straighter teeth but excellent oral health!
About the Author
Dr. Travis Rottman and his team at Sachse Family Dentistry are eager to help achieve the smile of your dreams. He earned his Doctor of Dental Surgery from the Texas A&M Baylor College of Dentistry and is an active member of the Academy of General Dentistry. He offers a full range of services, including orthodontics like Invisalign. To schedule an appointment, contact him through his website or call (972) 848-0073.