Cosmetic Dentist – Sachse, TX
Creating Flawless Smiles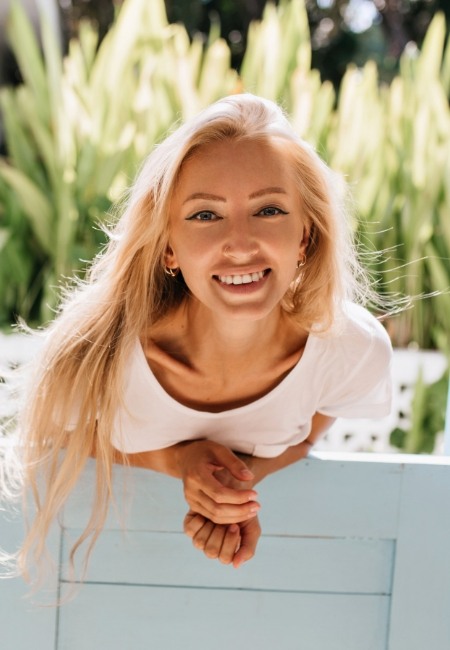 On the cover of every magazine and the big screen, we're surrounded by bright, beautiful smiles that may seem completely unobtainable. But when you partner with Sachse Family Dentistry at Woodbridge, your own celebrity smile is closer than you may think. Our skilled dentist and team offer a wide array of options for cosmetic dentistry in Sachse, TX, which give our patients the picture-perfect smiles they deserve.
Call to schedule your cosmetic dentistry consultation today. During your visit, we'll examine your smile, discuss your goals, and walk you through your treatment options to help you create a flawless smile.
Why Choose Sachse Family Dentistry at Woodbridge for Cosmetic Dentistry?
In-Office & Take-Home Whitening Kits Available
Digital Impressions Mean Less Mess
High-Quality, Natural-Looking Veneers & Lumineers
Veneers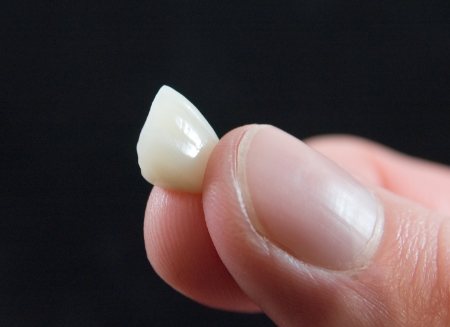 Veneers are one of the most popular cosmetic dentistry services we offer. These thin sheaths of dental-grade porcelain are placed over the front-facing surfaces of teeth to conceal smile flaws. These high-quality veneers can be used to correct any number of cosmetic irregularities including chips, cracks, stains, and gaps in teeth. Veneers are sometimes referred to as instant orthodontics. While they don't actually straighten or realign teeth, they give your smile a flawlessly aligned appearance.
Lumineers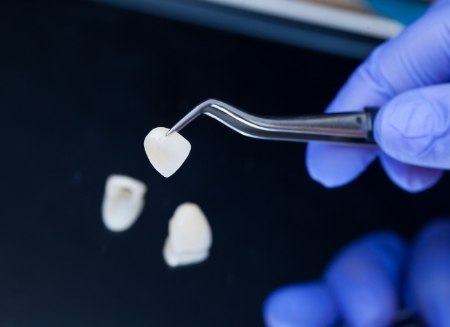 Lumineers are a specific brand of veneer that is uniquely crafted to be ultra-thin, so you see the same dramatic transformations possible with veneers without removing surface tooth enamel, making Lumineers a more conservative solution.
The treatment still requires two visits. During the initial appointment, we capture bite impressions for the lab, but we don't need to remove any tooth enamel or place a temporary. When we receive the Lumineers from our lab, you will return to the dental office for us to bond each veneer into position, leaving you with a flawless smile.
Metal-Free Dental Restorations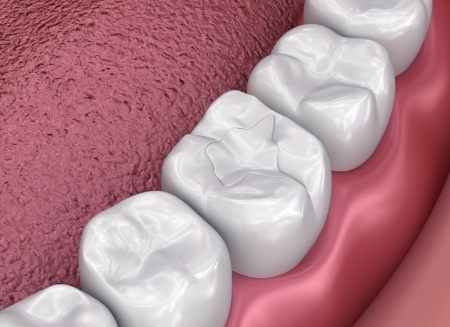 All-ceramic restorations offer a cosmetically superior restorative solution for patients with dental damage or decay. They can also be used to correct purely cosmetic flaws. These metal-free restorations are perfect for repairing dental wear, filling gaps in smiles, or concealing severe cosmetic imperfections. And for patients who suffer from metal allergies or sensitivity, all-ceramic fillings are the safest option.
The dental crown process is completed over the course of two appointments. During the first visit, we'll prepare the tooth, capture bite impressions, and place a temporary crown. Then, we send the impressions to our dental lab where a custom, all-ceramic crown is crafted. Once we receive the final restoration, patients return to our dental office where we'll exchange their temporary for a flawless ceramic crown.
Direct Bonding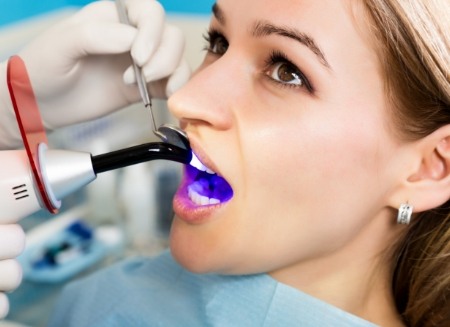 Direct bonding allows us to correct cosmetic flaws like chips, cracks, and gaps in just one appointment at our dental office. For some patients, direct bonding offers a same-day, cost-effective alternative to veneers or Lumineers. The treatment is completed by using the composite resin material used to create tooth-colored fillings. We apply the resin directly to the surface of teeth, shape it to correct or conceal cosmetic irregularities, and use a curing light to harden the resin into position.
Teeth Whitening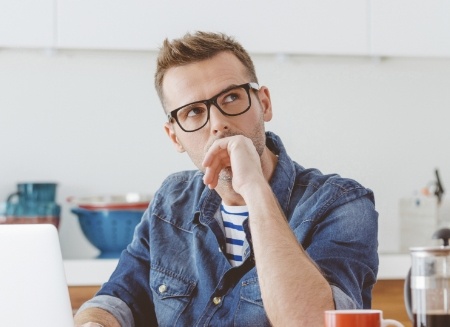 Many patients want brighter smiles, and teeth whitening is one of the easiest cosmetic dentistry services we offer. If you've invested time and money trying over-the-counter teeth whitening products, you may think that there's no way to brighten your smile. However, professional teeth whitening solutions provide predictable smile-brightening results - up to ten shades whiter in some cases. We offer both in-office and at-home whitening treatments. Our in-office whitening takes about an hour and delivers brilliant white smiles.
But if you prefer to brighten your smile gradually or have sensitive teeth, our at-home whitening kits may be a better option. Over the course of two weeks of daily application, at-home whitening provides the same results as in-office whitening. You can also use at-home whitening kits to touch up the results of your in-office treatments.
Digital Smile Design
If you're interested in seeing the results of your treatment before you ever start, we can make this possible with the help of digital smile design. With a simple photo of your smile, we can digitally apply various treatment options to the image, allowing you to see first-hand the type of change and transformation that will occur once results are achieved. This process makes it possible to eliminate fears and concerns commonly associated with cosmetic dentistry.
Smile Makeovers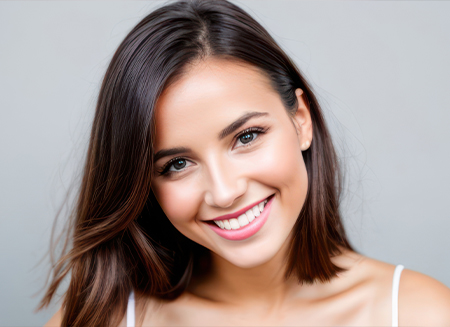 With one single treatment plan, we can build your new smile with the help of multiple cosmetic dentistry services. When too many flaws exist and keep you hiding behind others in pictures and group gatherings, we can develop a solution that will address all chips, cracks, stains, and gaps. What you'll be left with is a showstopping smile that captures the attention of others and leaves them wondering how you did it.
Cosmetic Dentistry FAQs
Your cosmetic dentist in Sachse can create the beautiful smile you deserve using a personalized plan. Although you'd love to give your confidence a boost, it's normal to have a few concerns before you're ready to get started. We understand your apprehensions. Here are the answers to a few of the most common questions patients ask us about cosmetic dentistry to calm your nerves.
Is cosmetic dentistry worth the investment?
You can't put a price tag on an attractive smile. Research shows people who are satisfied with the appearance of their teeth often have higher self-esteem. Therefore, transforming your smile can improve your outlook on life. Not to mention, others will view you as being younger, successful, and intelligent. In some cases, cosmetic procedures can even better your oral health. You can enjoy the benefits of a stunning smile for yourself by investing in cosmetic dentistry.
How long will the cosmetic dentistry process take?
No one wants to wait to reach their goals, but there isn't any way to determine how long your journey to an attractive smile will take without first having a consultation. We'll design a strategy to enhance your smile using specific treatments. Depending on the procedure needed and the number of teeth you're improving, the process can only take 1 or 2 appointments, such as when choosing teeth whitening or direct bonding.
If you want to make significant improvements, it may require several weeks or months. We know you have more important things to do than sit in a dental chair, which is why our dental office uses the latest technologies and techniques to reach the results you want quicker. Although we'll save you time at the dentist, rest assured, you'll enjoy flawless results that look natural using high-quality materials.
How much does cosmetic dentistry cost?
There isn't a set fee for cosmetic dentistry because the cost is determined by your specific treatment plan, like the type of procedure required. Contrary to what you might have heard, cosmetic dentistry is more affordable than ever. We'll explain the costs associated with your plan and your payment options to find the solutions you need to accommodate your budget. Besides traditional payment methods, we also accept third-party financing. You are given the funds you need based on your credit approval. You'll repay the balance using a flexible plan.
Can I use my dental insurance to pay for cosmetic dentistry?
Cosmetic dentistry is considered elective, so it's rare for dental insurance to cover the procedures; however, there are some exceptions. Many cosmetic treatments also provide restorative benefits, like all-ceramic crowns. As a result, if a procedure is deemed necessary for your oral health, you may be able to use your dental insurance to offset the cost of the treatment. If applicable, we'll work on your behalf with your insurance company to maximize your benefits to lower the amount you need to pay out of pocket. A member of our team will discuss your options to cover any remaining balance.