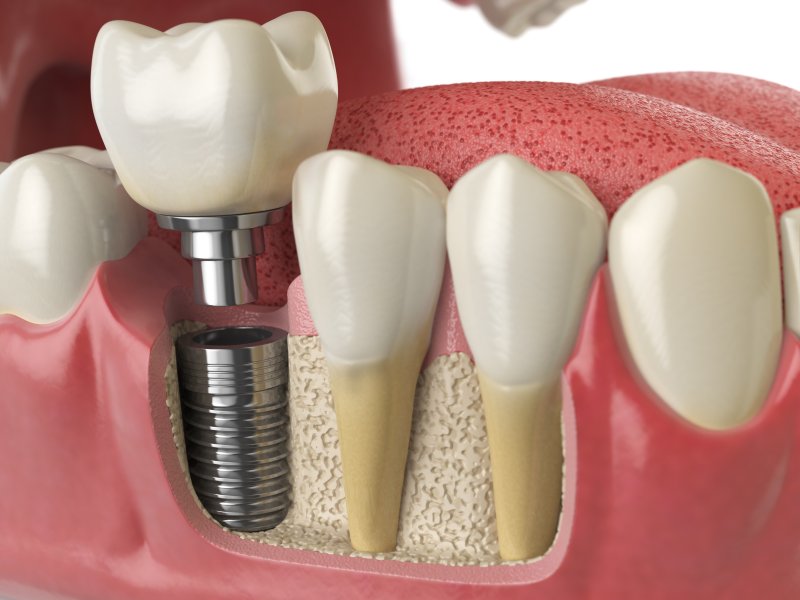 Dental implants are one of the most celebrated tooth replacement options by patients and dentists alike. It's easy to see why—they're strong, durable, and incredibly reliable. In fact, some providers even refer to them as the "gold standard" of tooth replacement.
Hearing all this acclaim, you may wonder why dental implants are as good as they are. As it turns out, there are a few reasons why that may be the case.
Only the Best Materials
Dental implants consist of a titanium post, a porcelain crown, and an abutment that connects the two pieces.
Titanium is the metal used most often in implants across the body due to its unique ability to fuse with bone. This is known as osseointegration, and it affords titanium implants a level of extra stability that isn't available to other metals.
Porcelain, on the other hand, appears commonly in dentistry. This is due not only to its resemblance to enamel but also its strength as a material. Together, this porcelain and titanium are key to dental implants' overall performance.
Supporting Bone Health
Once you lose a tooth, your body fairly quickly decides that the area of the jaw that once held it isn't very important, and sends fewer nutrients its way. Eventually, the jaw will begin to shrink from disuse.
This is a problem with dentures and bridges, neither of which addresses this issue. Eventually, jaw atrophy will make it so that teeth move and dentures don't fit, which can necessitate that these prosthetics be replaced.
Dental implants stimulate the jaw, which helps to prevent that bone loss. This means that they can last much longer than other tooth replacement options.
Dentist's Expertise
One of the most important factors in the success of a dental implant is the quality of the dentist performing the procedure. While dental implants are remarkably safe, there are risks to the procedure—it's the job of the dentist to understand those risks and to take steps to mitigate them.
Over 95% of dental implants are successful at 20 years, which means that most dentists are able to do that very well. Now you know what it takes to get a success rate that high!
About the Author
Dr. Travis Rottman's favorite thing about his work is being able to form strong relationships with his patients based on trust and integrity. He loves providing patients of all ages with the care they need to feel their best. Dr. Rottman received his degree from the Texas A&M Baylor College of Dentistry, and he works to stay at the top of his field with the Academy of General Dentistry.
If you have any questions about dental implants, he can be reached at his website or by phone at (972) 848-0073.