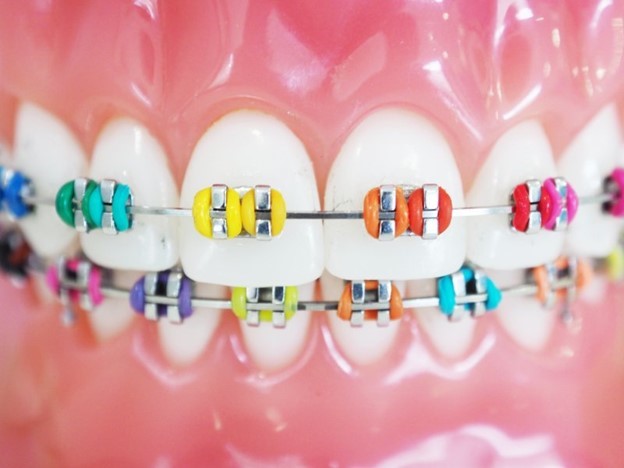 Although traditional braces are effective at aligning teeth, the metal brackets and wires can be unsightly and discouraging to wear for extended periods. However, selecting the right color of rubber bands on your brackets can positively impact the appearance of your teeth. Specific colors can even enhance your teeth's natural color and give your smile a radiant look. Learn which rubber band colors to choose and avoid for an optimal smile during your braces journey.
Which Colors Will Make My Teeth Appear Whiter?
Regular visits to your orthodontist are necessary when wearing braces for adjustments and inspection. You can change the color of your braces during each visit if desired. This allows you to have more flexibility in color choice, meaning you don't have to commit to a single color throughout treatment.
Opting for darker colored rubber bands, such as royal or navy blue, violet, indigo, or black, can make your teeth appear whiter under braces. This is because the contrast created by darker colors enhances the natural color of your teeth. Consider these darker shades if your goal is to achieve a whiter-looking smile while wearing braces.
Avoid colors like dark green or brown that may appear like food debris stuck in your brackets. If your teeth have a yellow tint, clear or silver bands are a safe option. These colors will not highlight the yellow hue and will blend seamlessly with your braces.
Which Colors Should I Avoid?
While some colors can enhance the appearance of your teeth, others can make them look dirty or stained. White braces, for instance, can cause your teeth to appear darker due to the bands discoloring over time. Rubber bands in yellow, orange, or gold may also give the impression of tarnished teeth.
If you want to enhance the whiteness of your teeth while wearing braces, knowing which rubber band colors to choose can help. With braces being highly customizable, you can try out a few of your favorite colors to see which ones best accentuate your smile!
About the Practice
Sachse Family Dentistry at Woodbridge is a dental practice led by Dr. Travis Rottman that offers a variety of services to patients and families in the Sachse area. The team at Sachse Family Dentistry at Woodbridge takes pride in serving their community and helping patients achieve healthy, beautiful smiles. Among their other orthodontic offerings, they offer traditional braces to patients with crooked smiles and are dedicated to answering any questions about rubber bands on braces. To schedule an appointment with Sachse Family Dentistry at Woodbridge or to learn more about braces, visit their website or call their office at (972) 848-0073.