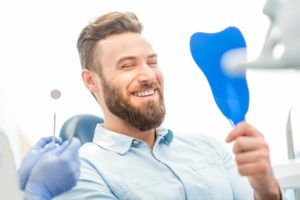 Are you wanting to transform your smile? Modern advancements in cosmetic dentistry have made it more possible than ever to improve your pearly whites. There are two main options that can provide natural and long-lasting results: veneers and dental bonding. However, you want to choose the best one for your personal smile goals. Read on to learn about the difference between these cosmetic dental treatments and the factors you should consider when searching for the right solution for your grin.
What Are Veneers?
Veneers are ultra-thin shells of dental-grade porcelain that are designed to cover the entire front surfaces of your teeth. They can cover a range of imperfections in your smile, including chips, cracks, discoloration, misshapes, or gapping. This cosmetic treatment is customized to match the exact size, shape, and shade of your natural smile. Veneers are incredibly versatile—your dentist can treat a single tooth or your entire smile depending on your dental goals. Lastly, a smile transformation with veneers only takes two appointments to complete!
What is Dental Bonding?
Another popular cosmetic service that utilizes the same material as tooth-colored fillings is dental bonding. By using a special composite resin, your dentist is able to sculpt over small chips, gaps, and cracks. The resin bonds quickly to your teeth with a high-tech heating light. This treatment can reshape your teeth, while dramatically changing the appearance of your smile, in just a single dental appointment.
Which One is Best for Your Smile Needs and Wants?
While dental bonding and veneers are both used to treat cosmetic concerns, there are distinctive factors that make them different. As you share your goals for your new smile with your dentist at your initial consultation, they will focus on:
Treatment concerns – Depending on the severity and extent of the aesthetic issues you want to address, your dentist may recommend one over the other. In general, veneers are a better option for more prominent issues.
Tooth preparation – With veneers, a small amount of enamel is removed from your teeth to ensure that they seamlessly blend in with the rest of your smile. Conversely, dental bonding does not require any tooth preparation, which allows the treatment to be completed in as little as one visit.
Material – While a tooth-colored resin is used in dental bonding, a ceramic substance is used to make porcelain veneers. These differences in material affect how long the treatments last and how much protection they provide your teeth.
Cost – If a patient has a specific budget, dental bonding is often the less expensive alternative. Yet, it is important to consider the long-term price as well. Although veneers may cost more initially, they will not require any additional cosmetic treatments in the future to keep your teeth looking bright.
Getting a smile transformation is very exciting! Dental bonding and veneers are awesome options to get the one you've always wanted. By keeping this information in mind and speaking with your dentist during a consultation, you can begin the process toward new and improved pearly whites!
About the Author
Dr. Travis Rottman and his team at Sachse Family Dentistry at Woodridge are eager to help you achieve your dream smile! He earned his Doctor of Dental Surgery from the Texas A&M Baylor College of Dentistry and is an active member of the Academy of General Dentistry. He offers a range of cosmetic services, including dental bonding and veneers. To schedule an appointment, contact him through his website or call (972) 848-0073.