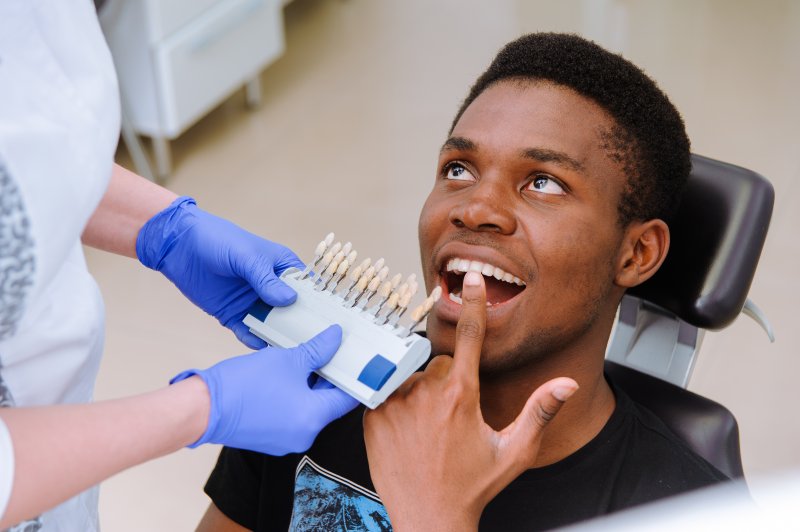 So, you're considering cosmetic dentistry to whiten your teeth. That's a wise move! After all, dentists have various ways to make pearly whites live up to their nickname. In particular, teeth whitening and porcelain veneers are great at fixing all sorts of tooth stains. Still, you might not know which of these two treatments is best for you. It's a good thing, then, that your cosmetic dentist in Sachse is here to help. Read on to learn how teeth whitening and veneers differ, as well as how to choose between them.
What's Teeth Whitening?
Per its name, teeth whitening is a procedure that whitens your smile. More specifically, it applies a special gel to your enamel that bleaches it white. Done well, the result is a grin that's six, eight, or even ten shades whiter.
Professional whitening comes in two kinds: at-home kits and in-office treatment. The former has the patient wear gel-infused trays daily over two weeks. For the latter, a dentist applies a bleaching agent to your teeth at their office. The visit only takes an hour and delivers a noticeably whiter smile.
What Are Veneers?
Veneers are thin, porcelain shells that dentists place on the fronts of teeth. Their main use is to hide various smile flaws — stains, cracks, chips, fractures, etc. As such, they're meant for the frontmost teeth, not the molars at the back of the mouth.
To ensure lifelike results, a dentist customizes veneers for each tooth. That way, the prosthetics blend seamlessly with your other teeth in terms of color, shape, and size.
Which One Should You Get?
When deciding between whitening and veneers, look at their strengths and weaknesses. Doing so will give you an idea of each service's suitability.
Take teeth whitening, for instance. It only whitens enamel, so this option is best for patients with surface stains from foods and drinks. The treatment is highly affordable, too, though it only lasts a few months or years at a time.
Veneers, meanwhile, have their own upsides and downsides. Since they cover tooth surfaces, they're ideal for stubborn stains and many other flaws. The prosthetics are also long-lasting, with a lifespan of 20 or even 30 years in some cases. Due to such features, however, veneers tend to cost a lot.
In the end, you should talk to your cosmetic dentist before making a final commitment. With their expertise, they'll be able to suggest an option that's right for you.
About the Author
Dr. Travis Rottman is a cosmetic dentist in Sachse, TX, having earned his DDS from the Texas A&M Baylor College of Dentistry. He's also an active member of the Academy of General Dentistry, making many contributions to the dental field. Given this background, Dr. Rottman specializes in preventive, cosmetic, and restorative treatments, as well as emergency tooth procedures. Dr. Rottman currently practices at Sachse Family Dentistry and can be reached at his website or by phone at (972)-848-0073.