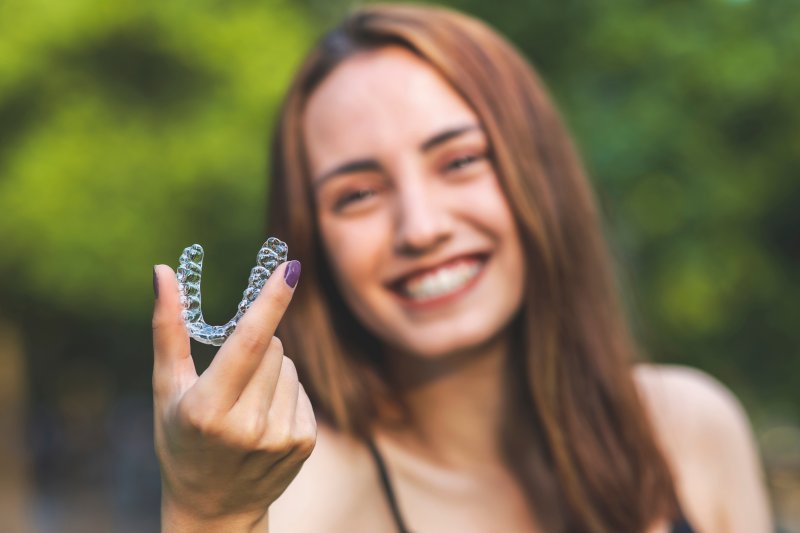 Wearing traditional metal braces aren't the only way you can achieve a straighter smile. With Invisalign treatment, you'll be able to shift your pearly whites quickly and discreetly into better alignment without the need for wires and brackets. You will, however, have to wear your clear aligners for at least 22 hours each day for this method to work. If this sounds virtually impossible to you, here are five Invisalign tips that can help make this process easier in the long run!
Why Is the 22-Hour Invisalign Wear Time Necessary?
Unlike traditional metal braces, your Invisalign treatment will involve wearing a series of clear aligners to move your teeth into more proper positions. Each set of trays will need to be worn for a certain length of time, typically around two weeks. By applying constant and deliberate pressure on your teeth, your aligners will gradually shift your smile into better alignment. For this process to work quickly and effectively, you'll need to wear your Invisalign trays for 20 to 22 hours a day. If your teeth go without your aligners for even an hour or two, it can set back the timeline and may increase the overall cost of your treatment.
5 Ways to Meet Your Invisalign Wear Time
Other than expanding the amount of time you'll spend with Invisalign, failing to meet your required wear time can also risk other complications, such as discomfort or delays. To help make this process more realistic, here are several tips you can follow:
Using a tracking app: You can download an Invisalign app that can track how long you have your aligners off during the day so that you can manage your time more effectively.
Remove your trays at certain points every day: You might set a schedule to take your aligners out for 15 minutes at breakfast, 30 minutes for lunch, and 60 minutes for dinner. This will allow some room for your oral hygiene routine.
Multi-tasking: While you're eating, try soaking your aligners in cleaning crystals so that they stay fresh and bacteria-free until you wear them again.
Clean after every meal: By brushing, flossing, and rinsing each time you finish eating, you can maintain clean trays throughout your treatment.
Switch to new aligners before bed: This will minimize any discomfort while your teeth get accustomed to the new set of trays.
While meeting a 22-hour wear time may seem daunting, you can easily achieve this with these few tips. After 12 to 18 months, you'll be able to show off and enjoy your perfectly straight smile!
About the Author
Dr. Travis Rottman earned his dental doctorate from the Texas A&M Baylor College of Dentistry and has delivered excellent care for over a decade. He's also a member of the Academy of General Dentistry and regularly seeks continuing education to refine his skills. He offers a wide range of advanced services, including Invisalign. If you'd like to know more about meeting the 22-hour Invisalign wear time, visit his website or call him at 972-848-0073.