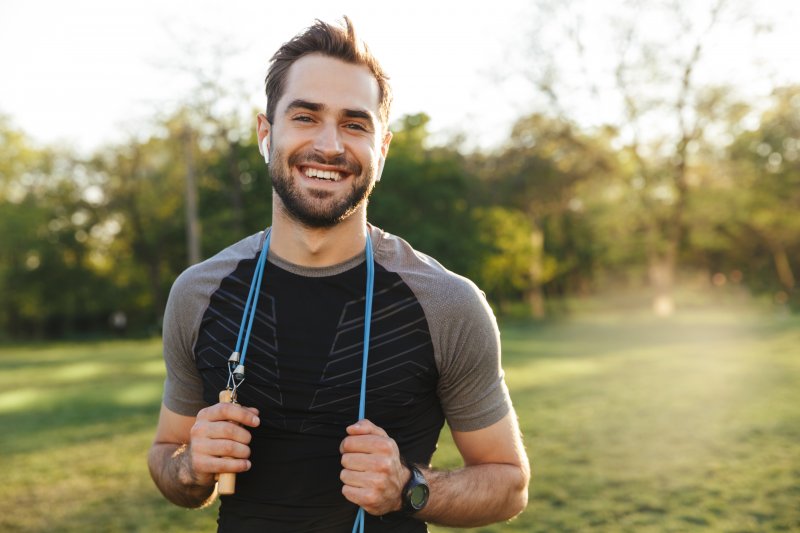 You wouldn't normally consider exercise as harmful to your body. Most think of it as an absolute good unless it results in physical injury. However, an exercise routine can damage your oral health if you're not careful. Research has even shown a negative association between vigorous physical training and tooth decay. Fortunately, you can keep this from applying to you. Just read this summary on exercise and teeth from a Sachse dentist — it'll help you maintain a healthy body and a healthy mouth!
How Exercise and Teeth Come into Conflict
There isn't one thing about exercise that can hurt your teeth. There are several causes, mainly the three listed below.
Grinding & Bruxism
During high-intensity workouts, it's common for people to clench their jaws or grind their teeth. For example, weightlifters often clench to the point of causing fractures, holes, or chips in their teeth. They can also damage their jaw joints, which is another big problem.
Open Mouth Breathing
At other times, intense exercise can make you breathe heavily with an open mouth. That habit can dry out your oral cavity and reduce saliva flow, creating an ideal environment for harmful bacteria. Research supports this conclusion, as open-mouth breathing has been linked to cavities and tooth decay.
Sports Drinks
Though not essential to physical fitness, many people rehydrate during their workouts with sports drinks. That's understandable, as these beverages help your body refuel thanks to having electrolytes. At the same time, though, they take a significant toll on your teeth.
As it turns out, these drinks essentially bathe teeth with harmful acids. Plus, sipping them throughout a workout exposes enamel to even more sugars and acids than they would be otherwise.
Ways to Protect Your Teeth from Exercise
On the bright side, it's possible to have a great smile and strong muscles. Here are some tips to protect your teeth during exercise:
Ease up on the sports drinks
Eat a balanced diet
Wear a mouthguard
Practice daily dental care
Visit your dentist often
You don't have to choose between fitness and your oral health. So long as you remember the tips above, your smile will be as healthy as the rest of you!
About the Author
Dr. Travis Rottman is a dentist in Sachse, Texas, having earned his DDS from the Texas A&M Baylor College of dentistry. He also has post-graduate training and experience in oral conscious sedation, laser dentistry, and same-day dental care. His services include preventive, cosmetic, and restorative dental procedures, not to mention emergency treatments. Dr. Rottman currently practices at Sachse Family Dentistry and can be reached at his website or by phone at (972)-848-0073.