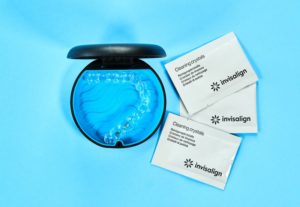 Clear aligners require a significant investment, so it's important to take great care of them. While you are straightening your teeth, you want your grin to look good along the way. To learn how to effectively use Invisalign Cleaning Crystals in Sachse, as well as what they are and the benefits provided, keep reading to find out from your dentist.
What Are Invisalign Cleaning Crystals?
Invisalign Cleaning Crystals are designed for thorough cleaning and disinfecting of clear aligners and retainers. They are specially formulated for daily use to kill bacteria growing on the aligners and remove any plaque to keep them fresh and clean. They are made of totally safe, sodium-based compounds clinically proven to prevent staining and odor buildup.
You should use the crystals once or twice daily. The procedure takes approximately 15-40 minutes. Of course, be sure to brush and floss your teeth after eating to ensure you get rid of food debris.
What Are the Benefits of Utilizing Invisalign Cleaning Crystals?
Here are some reasons why these crystals should be part of your Invisalign treatment:
Sanitize the system during use: These cleaning crystals have an antibacterial formula to help get rid of bacteria that would otherwise damage your teeth.
Prevent plaque buildup: Invisalign Cleaning Crystals dissolve plaque found in your trays. This helps prevent plaque from affecting your teeth to maintain good oral health.
Maintain the color of your aligners: Invisalign aligners are known to be very clear, almost invisible. Food particles, bacteria, and plaque buildup can easily make them lose their clarity. The cleaning crystals get rid of all those substances, helping your trays maintain their invisible look.
Protect your gums: By preventing bacteria from accumulating in the crevices, you're also protecting your gums from various diseases.
Keep your breath fresh: Via the elimination of food particles, plaque, and bacteria, the cleaning crystals help you maintain fresh breath. They defeat the odor that would have otherwise resulted if you wore your trays with plaque and bacteria.
The Steps to Use Invisalign Cleaning Crystals
Here are instructions to achieve maximum benefits:
Remove your aligners or retainer from your mouth.
Rinse them under warm running water to get rid of food debris or excessive saliva.
Fill a glass or similarly sized closed container with warm water.
Dissolve a packet of the cleaning crystals into the water and stir or shake until they fully dissolve.
Once you get a uniform mixture, place both the upper and bottom aligners or retainer into the crystal solution.
Ensure that your aligners are fully submerged.
Let them soak for 15-30 minutes.
Remove the aligners and rinse under warm running water.
Use a soft-bristled toothbrush to clean off any leftover plaque.
Rinse again with warm running water to wash off the cleaning solution.
When you wear and care for your clear aligners as directed, they are going to make a great impact on your smile. Along the journey to that result, proper use of Invisalign cleaning crystals in Sachse will ensure your trays and your teeth look as good as possible!
About the Author
Dr. Travis Rottman strives to provide optimal care to patients of all ages as your dentist for Sachse, Wylie, Murphy, and surrounding communities. Dr. Rottman earned his Doctor of Dental Surgery from Texas A&M Baylor College of Dentistry. He maintains membership in the Academy of General Dentistry. If you are interested in orthodontics, he offers Invisalign and traditional braces. Schedule a consultation on his website or call (972) 848-0073.