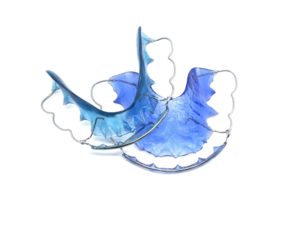 Investing in a straight, beautiful smile is a big commitment. Whether clear aligners or traditional braces, your treatment plan took many months to complete, but you're not quite finished. Now, you need a retainer in Sachse to prevent your teeth from moving back into their previous positions to enjoy lasting results. You may need to wear it for many years. Unfortunately, your retainer may not last forever. You will need a replacement. Here's how long you can expect your retainer to last and signs you need a new one.
The Lifespan of Orthodontic Retainers
Now that your braces are off your teeth, you have the beautiful, straight smile you've been waiting for, but the bone hasn't solidified around them, yet. They may move back into their prior positions if you don't use a retainer. It holds your teeth in their new placement while your jaw adapts to the changes.
Initially, your cosmetic dentist in Sachse may recommend wearing it all the time for at least 6 months. They will gradually decrease how often you need to wear it as your teeth settle into place. Since the process varies for each patient, you may need your retainer for several years. The average lifespan of your retainer can vary depending on the type you choose, such as:
Bonded Retainers
A retainer wire is bonded to the back of your teeth, so you'll never need to worry about losing your orthodontic appliance. However, everyday wear and tear will weaken the bonding material, like eating and brushing your teeth. Typically, upper bonded retainers last longer than those on the bottom. Your dentist will check it at each appointment to ensure it's secured in place.
Removable Retainers
There are two main types of retainers: Hawley and Essix. A Hawley retainer has an acrylic part that covers the roof of your mouth or behind the teeth to hold the wire in place. The wires wrap around the front of your teeth. Essix aligners are more discreet because a single piece of plastic fits directly over your teeth, like Invisalign aligners. A Hawley retainer may break away from the attachment at some point, or hot water can warp Essix retainers. Both can last for 6 months to a few years with the right care.
Protect Your Investment
It took a lot of time to achieve your new smile, so it's best to always have a good retainer to protect your investment. Don't wait to have it replaced if you notice:
Small cracks
Feels loose
Doesn't fit
Calcium buildup
Your dentist will provide the repairs or replacement necessary to ensure your stunning smile lasts for a lifetime.
About Dr. Travis Rottman
Dr. Rottman earned his dental degree at Texas A&M Baylor College of Dentistry before continuing his training in general dentistry, cosmetic dentistry, and laser dentistry. He provides retainers and braces in Sachse for adults. If you're ready to improve your smile, contact our office today to schedule your consultation for a straight smile.