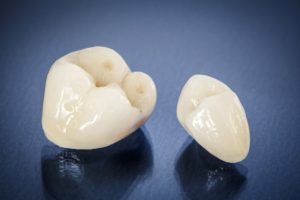 Dentistry evolves continuously, so you might see a treatment or technology that you aren't familiar with. However, although it might be new, you can feel at ease knowing it's an advancement in your dental care to achieve your best smile. You've noticed a change to dental X-rays over the years with the transition to digital technology. X-rays aren't the only way viewing the teeth has changed. Traditional impression methods are outdated because they aren't always reliable. Instead, a quick scan of your teeth gives your dentist everything they need to create a high-quality restoration. You'll benefit from a better fit and unmatched precision with a digital impression in Sachse.
How are Digital Impressions Different?
Digital impressions have revolutionized dental care for both dentists and patients. You don't have to hold a messy, foul-tasting material in your mouth anymore. A small handheld device takes a quick picture of your tooth using a pain-free process. It's the ideal option for patients who experience discomfort from traditional impressions.
Your dentist uses the scan with state-of-the-art software to view the image of your tooth. They can zoom in on the image to see the smallest details for accurate diagnosis and treatments, like dental crowns. You don't have to worry about the dental lab messing up your restoration. A digital impression virtually eliminates any potential for error, so your restoration will fit right the first time.
Benefits of Digital Impression Systems
The development of digital impressions has dramatically increased efficiency, accuracy, and productivity in dental offices across the country. The digital system makes it easy for your dentist to send and receive the images to streamline dental treatments. Here are just a few advantages of choosing a dentist in Sachse for digital impressions:
Improved impression quality for better-fitting restorations.
Less time in the dental chair.
No messy, disgusting impression materials.
Comfortable for patients with dental pain.
Perfect for patients with a strong gag reflex or jaw pain.
Reduced risk of error.
Stored digitally.
Eco-friendly.
Advantage from the Best Restorations
Nothing is worse than waiting for your dental crown only to discover it doesn't fit. You will never be disappointed again. The high rate of accuracy ensures your restoration meets your exact specifications to fit and feel like a part of your tooth's real structure. It will be made of high-quality, natural-looking material to blend in flawlessly with your teeth. You can breathe easy knowing there won't be any delays in your treatment.
If you need a dental restoration, you deserve to benefit from the best. Choose a modern dental office that embraces the latest technologies for healthy, beautiful smiles.
About Dr. Travis Rottman
Dr. Rottman earned his dental degree at the Texas A&M Baylor College of Dentistry. He regularly continues his training to provide the most up-to-date services, like laser dentistry and dental implants. He uses elite technology to deliver unmatched results. If you're ready to experience the difference with digital impressions, contact our office today to schedule an appointment.