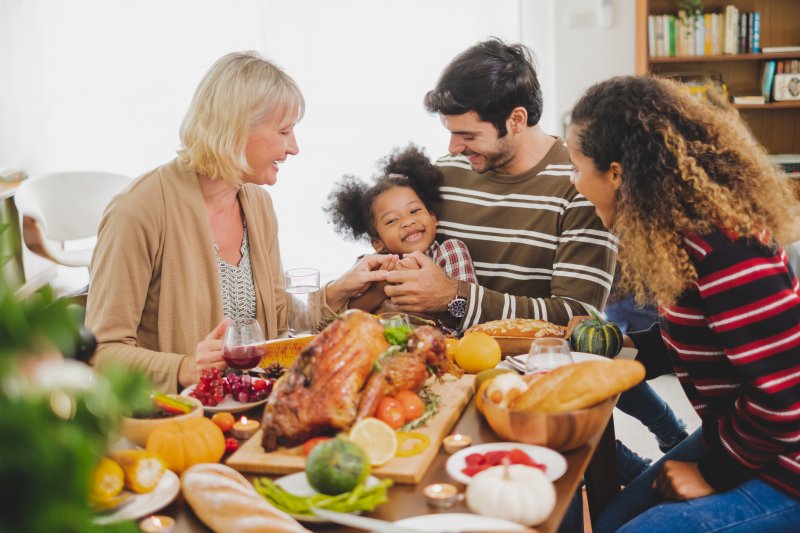 The holiday season is right around the corner! Though this is a great time of year to reconnect with loved ones and chow down on an array of tasty treats, navigating the holiday buffet with dentures can be a bit daunting. To help you know how to make it through the holidays with your dentures in Sachse in good condition, here are some foods you should avoid and what you should eat instead.
7 Foods to Avoid with Dentures
Though piling your plate full of a little bit of everything may be tempting, it's vital for the safety of your dentures that you abstain from foods that can potentially cause them damage, including:
Popcorn
Cranberry sauce
Marshmallows and similar sticky foods
Chewy meats
Hard candies like taffy and candy canes
Candied nuts, pecan pie, and any other foods with nuts
Corn on the cob or raw, hard fruits and veggies
8 Denture-Delights to Indulge In
Luckily, there are still plenty of Thanksgiving foods to fill up your plate with, including:
Ice cream
Green bean casserole without almonds
Tender meats like turkey breast
Mashed potatoes or pureed sweet potatoes
Pasta or pasta salad
Roasted carrots, broccoli, and other cooked veggies
Rice
Pumpkin pie
Pre-Feast Preparation
To make sure you have plenty to eat during your Thanksgiving feast, make sure to prepare beforehand. Purchase the above foods or other denture-approved delicacies to fill up your plate with. Additionally, consider visiting your dentist ahead of time so they can conduct an exam and make any necessary adjustments to your dentures. This will ensure that your restorations are in proper working order so you can enjoy your food to the fullest.
During the Feast
Cut your food into small, easy-to-chew pieces to make it easier for you to eat with your dentures. Chew slowly and on both sides of your mouth so bite forces are evenly distributed. This will also help reduce stress on any one part of your dentures. By doing these things, your dentures will be less likely to slip and you'll be able to fully savor every bite.
Having dentures in Sachse during the holidays doesn't have to put a damper on things. Though you may need to make a few adjustments to prevent damaging your restorations, there are still plenty of tasty treats you can fill up on this Thanksgiving!
About the Practice
If you're looking for exceptional dentistry you can trust, you've come to the right place. At Sachse Family Dentistry at Woodbridge, Dr. Travis Rottman and his team do everything they can to make you and your loved ones feel welcome and well-cared for from the moment you step into their office. If you wear dentures and have questions about what Thanksgiving foods to avoid as well as what to eat instead, they'll be happy to help so you can enjoy the holidays to the fullest. Visit their website or call their office at (972) 848-0073 today to make an appointment.