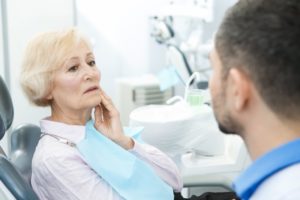 Modern dentures are nothing like the uncomfortable, awkward prosthetics your grandparents used to wear. Luckily, today's dentures are more durable and fit more comfortably than ever before. As far as dentures have come, though, they're still not designed to last forever. Even the highest-quality dentures in Sachse, TX have an average lifespan of five to seven years. If it has been about that long since you got your dentures, watch out for these four signs that they need to be replaced.
Your Dentures Feel Loose
Dentures are custom-made to fit the unique contours of your mouth. The natural suction they create against your gums should be enough to keep your denture in place while you speak and eat. If your denture is shifting around or even falling out of your mouth, that's a sure sign that it needs to be adjusted at the very least, if not replaced entirely. You can stabilize your prosthetic with denture adhesive, but this should be just a temporary fix until you can get an appointment with your dentist.
You're Having Trouble Talking
Even if your denture doesn't feel particularly loose, you might notice that you're unintentionally slurring your words or producing whistling or clicking noises. Dentures that fit properly should let you speak as clearly as you would with your real teeth. Call your dentist in Sachse to find out whether you need an adjustment or replacement.
Your Dentures Are Visibly Damaged
If one or more of your artificial teeth are cracked, chipped, or loose, then your denture almost definitely needs to be replaced. The same is true if the pink base of your denture is damaged. A broken denture can create sharp edges that injure the soft tissues in your mouth.
Your Gums Are Sore
When your dentures fit you the way they were meant to, then they shouldn't cause any discomfort – at least, not after the adjustment process after you first got them. If you feel pain whenever you bite or chew, then something is certainly wrong with your dentures. Additionally, sores or lesions should never develop on your gum tissue if your dentures fit correctly. Visit your dentist as soon as you can if you detect any changes in your gum health.
Dentures are designed to seamlessly recreate the set of pearly whites that you used to have. To make sure you can continue enjoying a complete, healthy smile, keep an eye out for the signs that you need to replace your dentures.
About the Author
Dr. Travis Rottman is a family dentist in Sachse, TX who earned his Doctor of Dental Surgery degree from the Texas A&M Baylor College of Dentistry. Through his membership in the Academy of General Dentistry, he stays up to date with the latest advancements in the dental field, including the best techniques for creating and maintaining dentures. If you're unsure whether you need to replace your dentures in Sachse, you can contact Dr. Rottman by calling 972-848-0073.