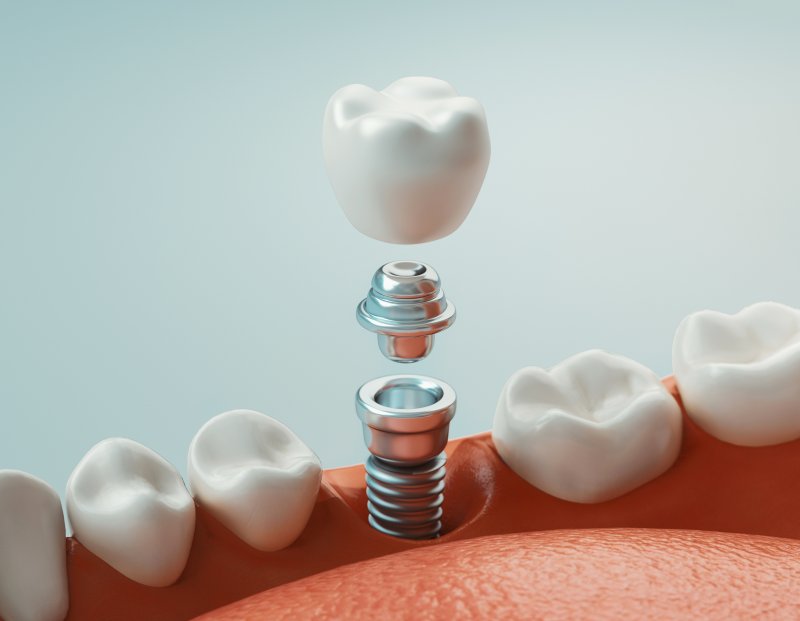 Dental implants are one of the best solutions for missing teeth. They look, feel, and act just like natural teeth! Of course, like any other dental procedure, the first step on this journey involves a consultation with your dentist. During your initial visit, they may throw around unfamiliar terms that sound like they're speaking a foreign language. Luckily, this guide can help you understand exactly what's going on – here are some dental implant terms you should know.
Abutment
The abutment is a connector that the dentist builds into, or attaches, to the top of your dental implant. It serves as the attachment for the replacement tooth, crown, or bridge and keeps it firmly in place.
Abutment Teeth
Abutment teeth support the bridge or partial denture. A bridge is attached to the abutment tooth during a full crown or inlay/onlay prep. On the contrary, clasps or rests are used to support a partial denture on the abutment tooth.
Ceramic
This clay material is used to make dental implants. It's hardened by heat before it's placed in your mouth. Most patients prefer ceramic over titanium because it creates a more natural-looking appearance. It's availably in ivory, which makes it resemble existing teeth and roots.
Crown
A crown, also known as a cap, replaces one tooth. It's used to replace a broken or lost tooth due to infection, decay, injury, or other dental health problem. The crown is fitted over the top of an existing tooth or attached to the abutment of the dental implant.
Dentures
Dentures are traditionally used to replace missing teeth. Some can be removed daily for cleaning and storage, while others are attached permanently to the mouth (i.e., implant-supported dentures).
Endosteal Implant
According to the American Academy of Periodontology, an endosteal implant is the most common type of implant used by dentists. To fit this implant, your dentist will place small screws, plates, blades, or cylinders directly into the jawbone during a surgical procedure to hold at least one prosthetic tooth.
Implant
A dental implant, also known as a fixture, is a medical device that interfaces with the jawbone and supports a dental prosthesis, such as a bridge, crown, or denture. It fuses with the jawbone through a process called osseointegration, providing long-lasting and durable results.
Osseointegration
This process fuses the implant to the existing bone, improving the strength between the bone and the load-bearing implant. It comes from the Greek and Latin words meaning "bone" and "to make whole".
Subperiosteal Implant
This type of implant sits on top of the jaw with the posts of the metal frame protruding through the gum to hold the prosthetic tooth (or teeth) in place. If a patient can't use a denture, the dentist may use this method for attaching an implant.
Titanium
Today, most implants are made of titanium since very few people are allergic to metal. The material is lightweight but strong, reducing the weight on your bone or within your mouth. It also forms a thin oxide layer in your body, ossifying the bone and producing a more durable result.
Zirconia
Zirconia is an alternative metal used for the small percentage of patients that are allergic to titanium. The risk of bacteria is lower, and patients may experience better gum health with zirconia.
With this guide, you can decode the language your dental team uses to describe the dental implant procedure. Now, you can fully understand the process for a beautiful, restored smile!
About the Practice
Our team at Sachse Family Dentistry provides all patients with superior, personalized, and high-quality dental care. From a children's checkup to teeth whitening to dental implants, we offer services the entire family can enjoy in one convenient location. For questions about dental implant terminology, ask one of our dentists via our website or call (972) 848-0073.