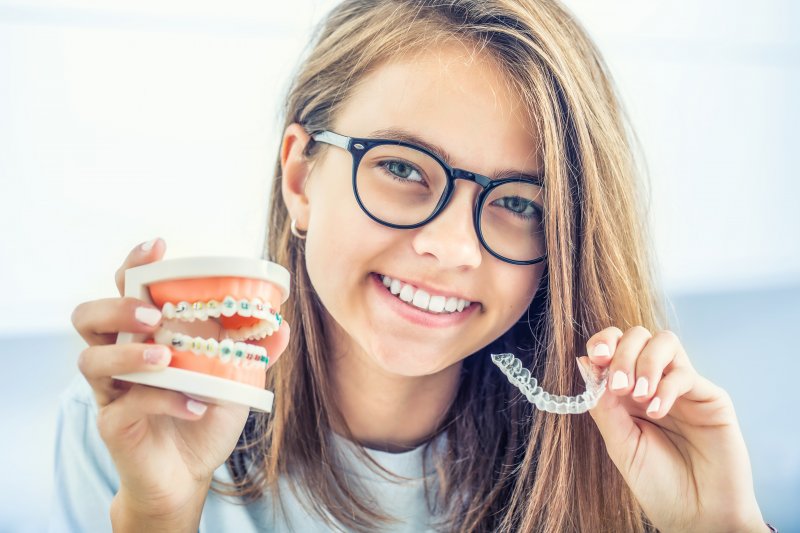 Do you have crooked or misaligned teeth? You might be considering orthodontic treatment to help you achieve a straighter smile. While Invisalign and braces are both effective options, they have distinct differences and unique benefits – so how do you choose between the two? Read on to learn the pros and cons of each treatment to help you settle on the best one for your needs.
Difference Between Invisalign and Braces
Invisalign and braces are equally capable of giving you a straighter smile and improved oral health – but the similarities stop there. They have several differences, but the biggest one lies in how they straighten your teeth. Here's how each treatment works:
Invisalign – This treatment uses a series of thin, custom-made plastic aligners to shift teeth into their desired position. Each set of trays are worn for a predetermined amount of time (usually two weeks) before moving onto the next phase.
Traditional Metal Braces – After metal brackets are glued to the enamel of each tooth, wires are maneuvered between them to help mold and shape your teeth over time. Braces typically stay on your teeth for about two years or until the desired results are achieved.
Benefits of Treatment
Each orthodontic treatment offers several unique benefits.
Invisalign
Invisalign's subtlety and comfort make it an attractive option for older teenagers and adults. Since the clear aligners are virtually invisible, no one may even notice you're wearing them! And unlike braces, there are no dietary restrictions as you can simply remove the trays before eating. You also don't have to worry about sustaining minor scrapes or cuts in your mouth since there is no metal involved.
Braces
Metal braces are sometimes a better option for patients with complex dental issues, as some problems can only be fixed with wires and brackets. Since the brackets are adhered to teeth for about two years, they're an ideal treatment for younger patients or those who have a habit of misplacing things. Plus, maintaining your oral health is much easier with braces than with Invisalign – no additional care is required outside of your usual routine (brushing and flossing every day)!
Downsides of Treatment
Although each treatment offers unique benefits, there are downsides you should keep in mind as well.
Invisalign
As mentioned earlier, Invisalign may not be a viable option for patients with severe dental problems. The clear aligners are unable to correct teeth that are rotated or overlapping.
Braces
Traditional metal braces may not be a good option for athletes who play high-contact sports, as the metal can injure their mouth upon impact.
Each patient has unique needs and preferences that must be considered when deciding between Invisalign or braces. But remember, you should always consult with your dentist to determine the best solution for your smile.
About the Author
Dr. Travis Rottman is passionate about working with patients to create lasting relationships based on trust and respect. After graduating from the Texas A&M Baylor College of Dentistry, he completed additional training in oral conscious sedation, laser dentistry, and same-day dental care. Dr. Rottman offers Invisalign and traditional braces to correct your orthodontic concerns and improve your smile. If you want to learn more about your options, schedule a consultation via our website or call (972) 848-0073.