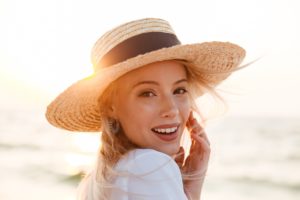 Don't spend another summer hiding your unattractive smile. Whether you're soaking up the sun by the pool or spending time with friends at a barbeque, you can look and feel your best with the help of your cosmetic dentist in Sachse. They'll create a personalized plan to revamp your teeth to enjoy a confident smile you'll want to show off. Here are 3 popular elective procedures that are perfect for summer.
1. Porcelain Veneers
If you have several aesthetic flaws, you might be a candidate for porcelain veneers. A veneer is a custom-made shell that's bonded to the front surface of a tooth. It instantly hides a variety of imperfections to enhance the overall color, size, and shape of a tooth without needing an invasive procedure.
Porcelain closely mimics your enamel, so your new smile will look natural. Not to mention, porcelain also allows veneers to be thinner than ever to make the procedure minimally invasive. In as few as 2 appointments, you can cover stains, chips, gaps, and cracks to have a stunning smile before your next summer event.
2. Teeth Whitening
Your teeth naturally darken over the years, which can make you look older than your real age. Brown or yellow teeth can be embarrassing, but you can reverse discoloration and stains with teeth whitening. A professional system from your dentist can get your smile as much as 8 shades brighter to turn back the clock.
You can achieve the improvement you want after just 1 appointment using an in-office solution. If your summer schedule is busy, an at-home kit might be a better option. Your dentist will give you everything you need to enjoy in-office results from the comfort of your home. In about 2 weeks, you'll have a dazzling smile to give your confidence a boost.
3. Direct Bonding
Direct bonding is a convenient and affordable treatment to resolve minor aesthetic concerns, like tooth decay, exposed tooth roots, chips, or discoloration. The noninvasive treatment doesn't require you to alter the structure of your tooth while advantaging from results that can last for a decade or longer with the proper care.
A composite resin material is carefully shaded to match the color of your enamel to blend in with your tooth after it has been applied. Your dentist will sculpt it into the ideal shape and harden it using a special light to provide drastic results after just one visit.
Invest in a Radiant Smile
There isn't any better time than now to achieve the picture-perfect smile you deserve. You'll invest in your self-esteem to make the most of summer using personalized solutions from your cosmetic dentist.
About Dr. Travis Rottman
Dr. Rottman earned his dental degree at the Texas A&M Baylor College of Dentistry before completing advanced training in sedation, laser, and same-day dentistry. He regularly attends seminars and continuing education courses to provide superior services, including cosmetic dentistry. If you're ready to improve your smile, contact our office today to schedule your consultation.