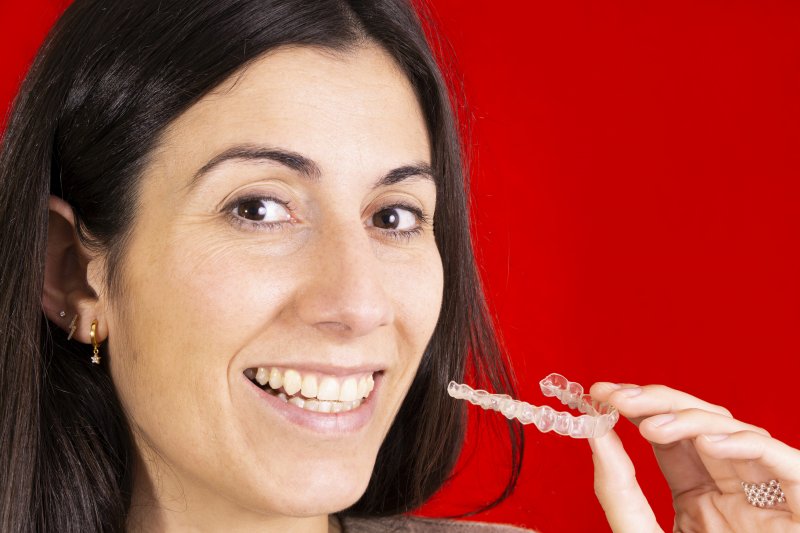 Are you unhappy with your misaligned teeth? One of the great things about living in today's world is the fact that you have so many different options when it comes to straightening your smile. You no longer need to settle for crooked teeth or a mouthful of metal brackets and wires in order to fix them. Instead, you can choose clear aligners. But which method should you choose? ClearCorrect or Invisalign in Sachse? Continue reading to learn the difference between the two.
How Do Clear Braces Work?
Invisalign and ClearCorrect are both forms of clear braces that can straighten your teeth without the use of metal. Instead, they use a series of clear, plastic aligners that will gradually shift your teeth into their new locations. For both types of clear braces, you will need to wear your aligners for about 22 hours each day and switch them out for a new set every couple of weeks. The exact amount of time will be determined by your dentist. The aligners can be removed so that you can eat, drink, brush, and floss with ease.
Who Can Get Clear Braces?
Both Invisalign and ClearCorrect can correct a variety of different alignment issues, including:
Crooked teeth
Overcrowded teeth
Gapped teeth
Overbites
Underbites
Crossbites
If you have a more severe orthodontic issue, you may require traditional orthodontic treatment in order to correct it. Your dentist will be able to determine whether or not you will make a good candidate for the treatment.
What Is the Difference Between Invisalign and ClearCorrect?
Even though the two treatments are very similar, there are some key differences that you should consider:
Cost: A lot of the time, ClearCorrect advertises itself as being a more affordable option, but this depends on how extensive and long of a treatment you require. Generally, both options are similar in overall cost.
Material: Invisalign is made out of a material called SmartTrack. This was developed over 8 years of research. They are said to be more comfortable and easier to put in and take out. ClearCorrect is made out of a thinner material. This means that it is more transparent but may be less durable.
Experience: Invisalign was approved by the Food and Drug Administration (FDA) in 1998. ClearCorrect didn't receive approval until 2009.
Both treatment options are effective at treating alignment issues, but they have their differences. By discussing them with your dentist, you will be able to choose the one that is right for you. This way, you will get on track towards a straighter smile!
About the Author
Dr. Travis Rottman earned his Doctor of Dental Surgery from the Texas A&M Baylor College of Dentistry and is committed to continuing education in order to keep his knowledge and skills sharp. Currently, he maintains membership in the Academy of General Dentistry. Dr. Rottman offers Invisalign as a teeth straightening option. For more information or to schedule a consultation, visit his website or call (972) 848-0073.