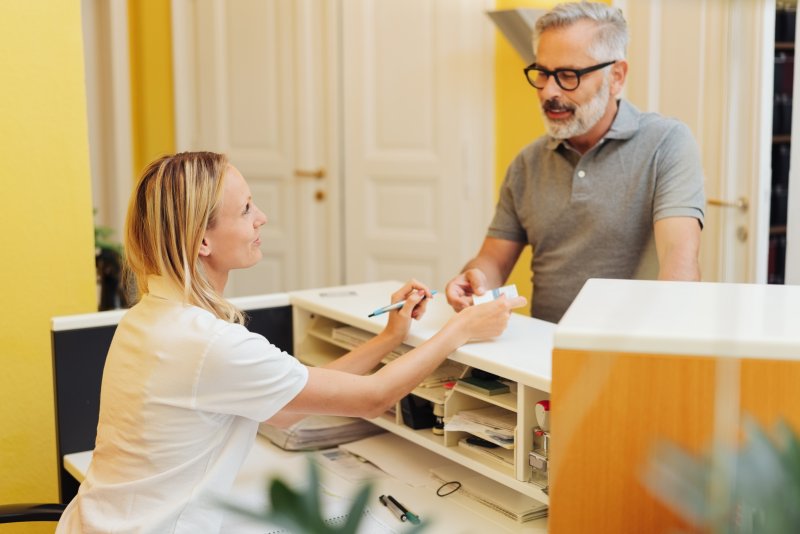 Dental insurance is a monthly investment that helps patients to receive more affordable dental care. However, it is much different than medical insurance so many people have trouble comprehending how it works. That's why a dentist is here to help you gain a better understanding of your dental coverage. Continue reading to learn about a few ways that you can maximize dental insurance benefits before they renew at the beginning of the calendar year.
If you haven't been going to the dentist on a regular basis for checkups and professional cleanings, you aren't even close to fully maximizing your benefits. When you go to these appointments, you can easily prevent many different oral health issues more successfully. By getting your teeth cleaned by your hygienist, you can significantly reduce your risk of developing tooth decay in the future. Your dentist also checks for existing cavities so they can be treated before you require a more invasive and costly procedure. For instance, if your dentist finds a small cavity and treats it now, you could avoid the need for a root canal or tooth extraction later on. Fortunately, most dental insurance plans cover preventive care. This includes professional cleanings, checkups, x-rays, and more!
Prevent Related General Health Problems
Your oral health is more related to your overall health than you may think. By taking care of your smile, you can prevent other issues in the body from developing or worsening. People who have periodontal disease are more likely to suffer from other serious conditions in the body like diabetes, heart disease, respiratory issues, and many other problems. In fact, your dentist has the ability to detect more than 120 different health issues throughout the body. By attending your dental visits, you can lessen the time and money spent on other types of treatments in the future.
Choose an In-Network Dentist
Of you have a preferred provider organization (PPO) plan, you will have the ability to choose whichever dentist you'd like for your dental care. This includes out-of-network dentists. However, you are likely to end up with higher out-of-pocket costs. To avoid this, choose a dentist who is in-network so you will end up with more affordable treatment.
Use Your Flexible Spending Dollars
If you have received a flexible spending account (FSA) through your employer, it is best to use these dollars before the year comes to a close. Most times, dental expenses are eligible FSA healthcare expenses. These FSAs reduce your taxable income by putting aside money for healthcare. When you use tax-free dollars to pay for your dental care, you will ultimately save more money.
Review Your Dental Benefits
2020 is almost over. This means that it is a great time for you to look over your dental benefits again. When you know exactly what is covered under your plan and when it will reset, you will have an easier time maximizing your coverage. For most people, their benefits reset at the end of the calendar year. This means that you will be left responsible for paying your deductible again at this time. All remaining benefits will go to waste.
If you haven't been to the dentist within the last six months, there is no better time to schedule an appointment. By using the tips listed above, you'll be well on your way towards maximizing your coverage.
About the Author
Dr. Travis Rottman earned his Doctor of Dental Surgery from Texas A&M Baylor College of Dentistry and is committed to completing continuing education hours each year. He currently maintains membership in the Academy of General Dentistry. His practice is in-network with numerous popular insurance plans. For more information or to schedule an appointment, visit his website or call (972) 848-0073.