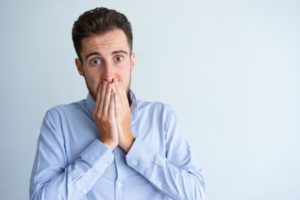 Dental crowns are a popular, versatile, and reliable way to restore broken or weakened teeth. While these restorations are essential for protecting your smile from severe damage or infection, some can leave you with a noticeable black line amidst your pearly whites. Thankfully, modern dental materials can help restore your smile's appearance as well as its functionality! Read on to learn what's causing that black line and what you can do to regain your beautiful smile.
What Causes Black Lines Around Dental Crowns?
Dental crowns in Sachse can be made of a variety of different materials. A porcelain fused to metal dental crown is designed to offer a compromise between looks and strength. The outer layer is made of natural dental porcelain, while the inner shell is crafted from durable metal components. However, the edges of these crowns aren't covered in porcelain, leaving a shiny metal rim.
When initially placed, the edge of a dental crown is hidden underneath the gums. However, as the gums recede naturally over time, the rim may be revealed and your tooth may look like it's darkened around the gum tissue. The black line is the metal edge becoming visible.
What Can I Do About the Black Line Around My Crown?
Essentially, the best way to correct this cosmetic issue is to replace the crown with a new, all-ceramic dental crown. This type of restoration is 100% metal-free and is instead crafted from dental porcelain for seamless results that don't compromise durability. Your Sachse dentist can remove your old dental crown and take impressions of your tooth. Then, you'll return in just a few weeks to have your new, beautiful all-ceramic crown bonded into place.
What Are the Benefits of All-Ceramic Dental Crowns?
All-ceramic dental crowns offer a variety of advantages. Even if your porcelain fused to metal crown hasn't developed a black line around it yet, you can replace it and enjoy benefits like:
Unmatched beautiful appearance: Dental porcelain is somewhat opaque, so the metal base of a porcelain fused to metal crown often shines through to dim the color of the tooth. Meanwhile, all-ceramic crowns can be customized to match the color and shape of your other teeth for nearly indistinguishable results.
Biocompatible and safe for sensitive smiles: When a dental crown is made of only biocompatible materials, it encourages the gums to grow back around the tooth. They're also the ideal choice for those who have metal sensitivities or allergies.
Long-lasting results: Thanks to their precise design and high-quality materials, an all-ceramic crown can easily last for 15 years or more with the proper care!
Black lines around dental crowns are a common problem, but you don't have to live with this cosmetic flaw if you don't want to. Talk to your dentist today to see if a new, beautiful all-ceramic dental crown is right for you!
About the Author
Dr. Travis Rottman of Sachse Family Dentistry at Woodbridge has been serving the smiles of Sachse, Wylie, Murphy, and the surrounding communities since 2011. He is proud to provide high-quality dental crowns to help restore the function and appearance of teeth that have been damaged, decayed, or weakened. In addition, he offers flexible hours and same-day emergency appointments so you can get the care you need when you need it. To learn more, he can be contacted via his website or at (972) 848-0073.