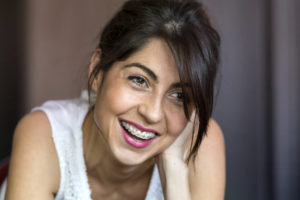 Crooked, gapped or misaligned teeth can be both a source of embarrassment and have a negative impact on one's oral health. That is why, according to Humana, over 4 million people in the U.S. currently wear braces – including 1 million adults. If you are unhappy with your teeth, you may want to consider ceramic or metal braces in Sachse to achieve a straighter smile. But which type of braces are right for you? Keep reading to find out.
How Do Braces Work?
Braces are a common orthodontic treatment to address a wide range of dental problems, from serious functional issues that affect jaw movement to aesthetic issues like closing gapped teeth.
The treatment works by using a combination of brackets, wires and elastic bands. Brackets are bonded to the front of teeth using a special bonding material. An archwire, connected to the brackets by elastic bands, puts tension on the teeth to gradually move them into the desired position.
As the teeth slowly shift over time, the archwire is periodically adjusted by an orthodontist until the patient's new smile is achieved.
Ceramic vs Metal Braces
Both ceramic and metal braces can help address functional and aesthetic dental problems. So, what are the differences and similarities? Here is a brief breakdown:
Aesthetics – Ceramic braces are clear or tooth-colored and thus ideal for the aesthetically conscious patient who wants to discreetly fix their teeth. Metal braces, on the other hand, are more clearly visible.
Durability – Metal braces are more durable than ceramic braces, which often tend to chip when used for a long period of time. Durability is something you should consider if you will be wearing braces for a long treatment period or if you frequently engage in contact sports.
Sensitivity – While uncommon, some patients report that ceramic braces irritate their inner lips. Discomfort could occur due to the fact that ceramic brackets are typically larger than traditional ones, or be caused by the interaction of the ceramic material with the tissues inside the mouth.
Cost – Ceramic braces tend to be more expensive than their metal counterparts. If cost is a top concern, you may want to opt for metal over ceramic braces.
Which Braces are Right for Me?
Braces may be the right orthodontic solution for you if you have any of the following issues:
Crooked teeth
Overbite/underbite
Gaps in between teeth
Misaligned jaw
Poor dental hygiene due to orthodontic conditions
There many factors to consider when deciding between ceramic and metal braces. Determining which braces are right for you will depend on your unique preferences and dental challenges. Your ultimate decision should be made in consultation with a trained dental professional.
Boost your appearance and self-confidence by achieving the straight teeth you have always wanted. Talk to a dentist in Sachse today to learn more about how braces can improve the appearance and function of your smile.
About the Author
A proud graduate of the Texas A&M Baylor College of Dentistry, Dr. Travis Rottman leads the team at Sachse Family Dentistry in providing quality dental care to patients in Sachse, Wylie, Murphy and surrounding communities. Patients old and new can contact Dr. Rottman by visiting the Sachse Family Dentistry website or by calling 972-848-0073.