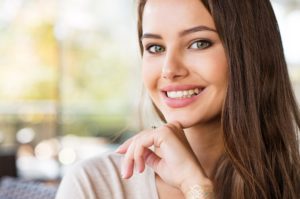 Do you live with an unattractive smile? You know your cosmetic dentist in Sachse can transform how your teeth look; however, you do not want to undergo treatments that only provide aesthetic benefits. What if the procedures could also influence your long-term dental health? There are several cosmetic solutions that not only improve the appearance of your teeth but also encourage a healthy smile.
Cosmetic Dentistry and Your Oral Health
Often, it is thought cosmetic procedures and restorative services are in their own categories of dental treatments, but now they often overlap. New innovations in dentistry allow certain cosmetic treatments to also improve your dental health. As a result, your insurance may cover a portion of their costs if your dentist deems them beneficial to your oral health. There are several procedures that can enhance both the health and appearance of your smile.
Tooth-Colored Fillings
Metal fillings are no longer the preferred option to treat tooth decay. You can replace old amalgam fillings or treat a new cavity using a natural-looking solution. A composite resin material is customized to match your enamel to blend in with your teeth. Not only does it reinstate the health of your tooth, but it also improves its structure and appearance.
All-Ceramic Crowns
New innovations in dentistry allow dental crowns to be made from all-ceramic material. They are designed to match the color, size, and shape of your teeth. Placing the protective cap over a tooth provides many benefits, such as treating a large area of decay, a chip or fracture, severe tooth discoloration, or an abnormal shape.
Direct Bonding
Also known as cosmetic bonding, a composite resin material can resolve tooth discoloration, chips, cracks, or gapped teeth. The minimally invasive treatment improves the color, size, and shape of your teeth while also repairing any damage to prevent future complications.
Orthodontics
Misaligned teeth can make you feel insecure, but they can also impact your oral health. When your teeth are not in their ideal positions, it makes them more difficult to clean. This increases your risk of tooth decay and gum disease. Braces gradually move your teeth into their correct positions to give you a straight, beautiful smile. You also lower your risk of preventable issues as well as dental emergencies.
Which Treatment is Right for Me?
If you are ready to invest in your confidence and your oral health, you need to schedule an appointment with your cosmetic dentist. After an initial consultation, they create the customized treatment plan you need to improve your smile.
About Dr. Travis Rottman
Dr. Travis Rottman strives to build lasting relationships with his patients to help create lifelong healthy smiles. Besides providing general dentistry, he is specially trained in areas of specialty, such as cosmetic, sedation, and laser dentistry. Dr. Rottman has the solutions you need to achieve a healthy, beautiful smile. Start your journey to improved oral health and self-esteem today by contacting our office to schedule your consultation.