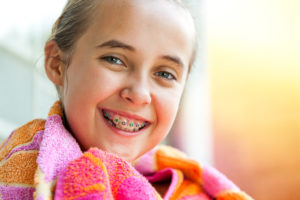 Our smiles play a starring role during life's biggest moments. When your son or daughter gets their first driver's license, when they cross the stage to receive their college diploma, or when they sit down for their first job interview, their smile will be on display – and hopefully leave a lasting, positive impression!
Most people are not born with a perfect, Hollywood-style smile. However, for kids with cosmetic or functional dental problems, braces can help fix the way their teeth fit together and prevent more serious issues from developing as they grow older. Just a few years of wearing braces in Sachse can give your son or daughter a life-long, confident smile.
Would you like to know more? Continue reading below to learn what orthodontic treatment would mean for your son or daughter.
Braces Can Fix Both Functional and Cosmetic Dental Problems
Braces can help fix a wide range of dental problems, from serious functional problems that affect the movement of the jaw to more cosmetic issues like closing gaps in a smile.
For instance, young habits such as thumb-sucking or tongue thrusting can push children's upper teeth forward, resulting in an overbite. If not corrected, overbites, underbites or crossbites can all contribute to wear and tear on your child's teeth and gums over time, and even cause uneven jaw development. Braces can fix these types of functional issues and prevent them from becoming more serious problems in the future.
Parents may also choose to get braces for their child to address cosmetic problems that could contribute to low self-esteem, such as crowded teeth, teeth spaced too far apart, or missing or extra teeth.
Why You Shouldn't Wait To Schedule That First Check-Up
Do you think your child may benefit from braces but are not sure if he or she is too young? Scheduling an appointment early on with your child's orthodontist can pay off in the long run.
In fact, the American Association of Orthodontists recommends that every child visit their orthodontist by age seven to identify orthodontic issues before they become more serious problems. Even if your son or daughter does not need braces right away, visiting an orthodontist early can help identify subtle issues before they develop further and establish a sensible plan for a few years down the road.
A Few Years of Braces for a Lasting, Straight Smile
Treatment lengths vary, but most children and young adults wear braces on average for 18 to 24 months. Kids can express their personality by picking their favorite colored dental elastic bands or choose clear, less noticeable bands if they prefer. Fast-forward a couple years and your kid will have a straight, confident smile that they will love to show off!
So, whether it is to close gaps in their teeth or to correct a functional dental problem, braces could be the solution to ensure your child can smile wide during those big life moments to come.
About Sachse Family Dentistry
Led by Dr. Travis Rottman, Sachse Family Dentistry is proud to serve patients in Sachse, Wylie, Murphy and surrounding communities with high-quality dental care in a welcoming environment. If you still have questions about whether braces in Sachse are right for your child, contact Sachse Family Dentistry today by e-mail at contactus@sachsefamilydentistry.com or by phone at +1 972-848-0073.