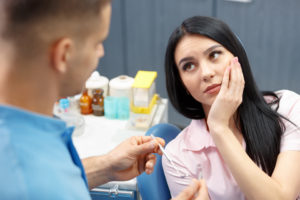 Despite our best efforts, dental emergencies still happen. Avulsed, knocked out, teeth are some of the most common dental emergencies your dentist treats. If you or a loved one has had a tooth knocked out, you may not know what to do. Many patients go to an emergency room, and this is usually okay, since medical doctors know how to protect your whole body health during these accidents. However, they don't usually know how to repair your tooth, and emergency room visits can be pricey. Instead, you should consider finding a dentist who offers emergency dental care. The sooner you see a dentist after a tooth is knocked out the better. In this post, we'll discuss the steps you should take if you've lost a tooth.

1 – Call Your Dentist's Office
As soon as your tooth is knocked out, you need to call your dentist. If your dentist does not have an emergency contact number, you may want to consider looking for a Sachse dentist who does offer emergency care. Time is of the essence in cases of knocked out teeth, so the sooner you see a dentist the better.
2 – Retrieve Your Tooth
In order to save your tooth, you need to find it. When you do track down the knocked out tooth, you should always handle it by the biting surface and not the sensitive tooth roots. You can gently cleanse the tooth and your mouth with cool water. You should not rub at the tooth or your mouth with a toothbrush or use oral hygiene products.
3 – Store the Tooth
Once you have retrieved and cleaned the knocked out tooth, the best option is to replace it in the socket it was knocked out of. If you're unable to replace the tooth in its socket, your second best option will be store it in a container of whole milk or water.
4 – Get to the Office as Soon as Possible
Following the loss of a tooth, you typically have about an hour to have it reset if you want to save your natural dental structure. In some cases, you can extend this time frame by replacing the tooth in its socket immediately. However, your emergency dentist should be willing to see you immediately following tooth loss.
Meet Dr. Rottman
At the Sachse dentistry practice of Travis Rottman, DDS, we are happy to provide same day emergency dentistry appointments in most cases. If you've lost one or more teeth, it's especially important that we see you right away. In some cases, we'll be able to save your knocked out tooth. Our friendly dentist and caring team are available whenever you need us, so please don't hesitate to call Sachse Family Dentistry if you've lost a tooth or experienced another dental emergency. We'll schedule an appointment to see you as soon as possible with the goal of relieving pain immediately and beginning the dental restoration process right away.