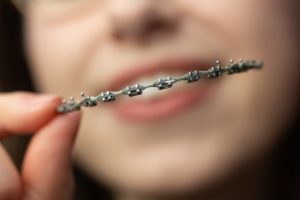 You have been on a journey to straight teeth for quite a while. But it's finally time to bid farewell to your braces! Once the wires and brackets are removed, you will get to see your long-awaited new smile. While you are incredibly excited, you are also unsure of what the braces removal process will be like. Read on to learn more about what to expect during and after the procedure.
The Removal of Your Braces
Even though your braces have been strongly adhered to your teeth for a significant amount of time, you may be surprised to learn that removing them is a quick and easy process. Your dentist will ensure your complete comfort before using a special tool designed to swiftly remove your braces. By locating the weak spots, the handy instrument can gently pop the brackets right off!
While you may feel mild pressure during the removal of your braces, it will pass before you know it. After the braces and wires have been completely removed, your dentist will buff your teeth to clear away any leftover adhesive. The whole process normally only takes about an hour and your pearly whites will feel like they have never even worn braces before.
After-Removal Examination
Once your braces are off, your dentist will want to make some final assessments. First, they will want to polish your teeth, so they look and feel as natural as possible. It will also be important to give your mouth a thorough examination for any potential issues. After taking final records of the completion of the procedure, they'll take photos and x-rays.
You may feel your gums are initially sensitive or swollen after being free from the brackets and wires. This is common since your mouth is now having to adjust to not having orthodontics in it anymore. The best thing you can do is to brush the soft tissues of your mouth gently for a few days to reduce inflammation.
The Final Step of Your Orthodontic Treatment
Your new smile journey isn't completely over after the above-mentioned steps. The final step in the process is being fitted for a retainer and wearing it for the recommended time. This part of the process is essential to keeping your teeth in their desired position. Initially, your dentist may recommend that you wear your retainer all the time. But eventually, you will most likely only wear it 3-5 nights per week.
Getting your braces removed is not only exciting, but it is an extremely easy and simple procedure. With a little care and maintenance afterward, your newly aligned smile will look its best for many years!
About the Author
Dr. Travis Rottman and his team at Sachse Family Dentistry at Woodridge are eager to help you achieve your dream smile! He earned his Doctor of Dental Surgery from the Texas A&M Baylor College of Dentistry and is an active member of the Academy of General Dentistry. He offers a full range of services, including orthodontics like traditional braces. To schedule an appointment, contact him through his website or call (972) 848-0073.