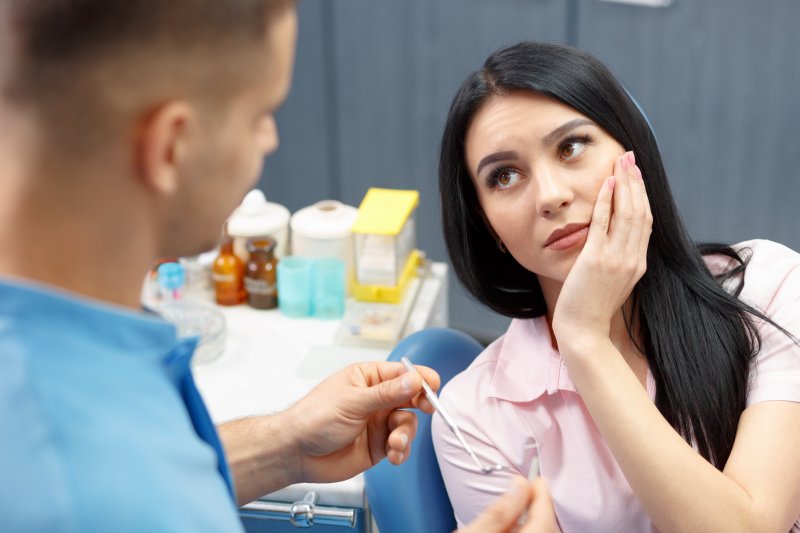 You wake up one morning feeling refreshed, but slightly off at the same time. You rush to your bathroom, take a look in the mirror, and quickly realize what's going on. Your face is swollen! The situation can be quite alarming, but you should do your best to remain calm. It's incredibly important to contact your emergency dentist in Sachse right away and schedule an appointment. Read on to find out why that is and how they can get your appearance back to normal!
What Causes Facial Swelling?
There are several reasons why you may have facial swelling, and most are acute crises that require urgent attention. An emergency dentist will check for the two most common causes:
Tooth Abscess: In many cases, this occurs when bacteria enter the pulp (the chamber that contains the nerves and blood vessels) and causes an infection. An abscessed tooth must be addressed before it spread throughout the face and to other parts of the body. If you have this issue, you may experience severe pain, fever, sensitivity, and a bitter taste in the mouth.
Salivary Gland Infection: Also known as parotoid glands, the salivary glands are located in the cheeks. When they become infected, they swell and cause extreme pain. Depending on your condition, your emergency dentist in Sachse may refer you to an ear, nose, and throat doctor.
Why Should You See an Emergency Dentist?
When you're having problems with your teeth and gums, you already know to make an appointment with your dentist. But what if you're experiencing facial discomfort? You may be unsure of who to contact in that situation.
As a general rule of thumb, you should always see an emergency dentist in Sachse for swelling around the face, mouth, or gums. They could indicate troubling oral health issues. A dentist can assess your symptoms and provide you with prompt relief.
What to Expect During Your Appointment
Your emergency dentist in Sachse will conduct a thorough oral examination to identify the cause of your facial swelling. They'll evaluate your symptoms, confirm a diagnosis, and create a treatment plan. If you have an abscessed tooth, they'll remove the bacteria, clean the area, and place a restoration to prevent further damage. For those with a salivary gland infection, they may simply prescribe an antibiotic or remove parts of the gland if necessary.
Facial swelling and pain should never be taken lightly. If you're experiencing either of those issues, you should contact your emergency dentist as soon as possible for treatment. They'll put your oral health back on the right track in no time!
About the Practice
At Sachse Family Dentistry, we strive to provide high-quality and comprehensive dental care. Our team will always go the extra mile to ensure you get the quality service you deserve. If you're experiencing a dental emergency, we'll work quickly to get your smile back to normal. You can make an appointment via our website or call (972) 848-0073.