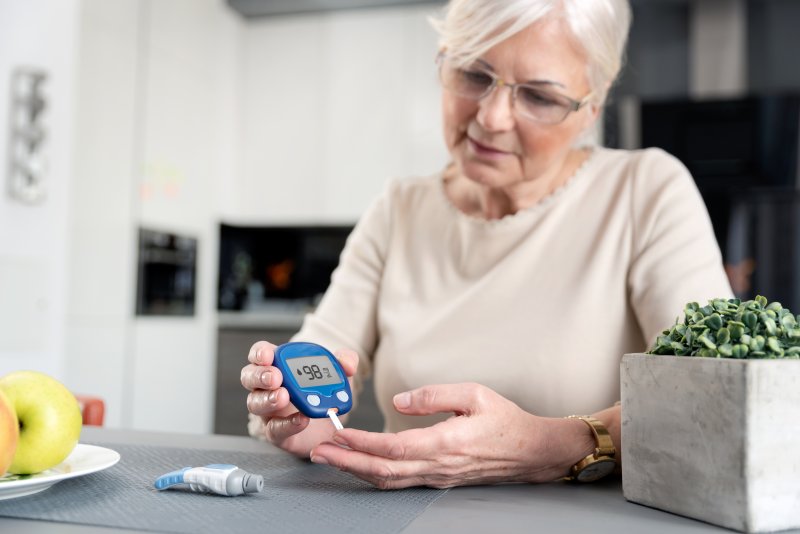 It's a common misconception that diabetics do not make good candidates for dental implants. While it is true that patients with this condition are more at risk of dental implant failure, it doesn't mean they're automatically ruled out from treatment. Studies show that implants are deemed safe for individuals with controlled diabetes, as long as their overall health complies with standard guidelines. Read on as we discuss what you should know about diabetes and dental implants.
Why Are Diabetics at Risk for Dental Implant Failure?
Patients with type 1 or type 2 diabetes are more at risk for dental implant failure because they take longer to heal and are prone to infection. If diabetics develop an infection around the implant site, it can cause it to fail and lead to other complications. Plus, the condition affects the osseointegration process (when the jawbone fuses with the implant). For diabetics, this process may take longer than usual or not occur at all. It's worth noting that dentists consider age when determining whether a patient is a good candidate. The longer you've had diabetes, the more susceptible you are to infection and slower healing processes.
How Can Diabetics Ensure Successful Dental Implantation?
Are you diabetic? Don't worry – there are many steps you can take to ensure successful dental implant treatment, such as:
Get your diabetes under control. First and foremost, you need to get your condition under control if you're considering dental implants. Listen to your doctor, follow their advice diligently, and make sure you take all your prescribed medication.
Maintain a good oral hygiene routine. Since you're more vulnerable to dental issues (i.e., gum disease, tooth decay, dry mouth) it's more important than ever to brush your teeth twice a day and floss daily.
Treat gum disease ASAP. If you have gum disease, seek dental treatment right away to prevent it from progressing.
Visit your dentist regularly. Routine dental checkups are important for everyone, but especially diabetics because they're more prone to oral health problems. If you underwent dental implant treatment, make sure you attend all your checkups to ensure the process is going smoothly without issue.
What Are the Benefits of Dental Implants?
Dental implants are one of the most permanent solutions for missing teeth. Unlike other methods, the implant post is securely anchored into your jaw and gum, making it easy and painless to eat the foods you want. They make it easier to follow a diabetes-healthy diet that's full of fresh, whole foods. Since they don't slip and slide around like dentures, you can eat nutritious, high-fiber foods with ease! With a healthy diet, you can keep your blood sugar levels in check and have your condition under control.
If you have diabetes and are missing one or more teeth, don't dismiss dental implants just yet. Contact your dentist and ask for a consultation. Soon, you can enjoy a fully functioning, restored smile!
About the Practice
At Sachse Family Dentistry, we offer personalized, comprehensive, high-quality dental care beyond what's anywhere else. We care about more than just your teeth – we care about your overall health too. If you have diabetes and are interested in dental implants, we'll do what we can to give you a smile you can proudly show off. To schedule a consultation, visit our website or call (972) 848-0073.